Artist Profile
Artist spotlight: Nancy D Lane
Written by Annette McQuarrie
Nancy D Lane is a found-object assemblage artist. Working as NancyDee Sculptures, she has an eye for creating quirky, tactile brooches, wall sculptures and 3D sculptures. She is passionate about environment sustainability, and always uses materials she finds on streets or beaches to create her artwork.
For Nancy, being an artist is an opportunity to explore her passion for re-imagining found objects. This is evident as I walk into her studio. She is one of the many talented Melbourne artists who have found a home in River Studios in West Melbourne, a wondrous warren of individual artist's spaces.
River Studios is a large, airy communal building with a welcoming vibe and numerous private studios of assorted sizes. Thanks to the City of Melbourne's Creative Spaces program, launched in 2008, this 3-story converted warehouse is home to a large number of photographers, sculptors and artists.
At first glance, Nancy's studio seems like a hoarder's cave. As my eye becomes accustomed to the myriad of artefacts Nancy has collected, it is clear this is organised chaos.
On the benchtop lie the tools of Nancy's trade: pliers, an industrial glue gun, neat rows of small gyprock pieces in different shapes; tiny pieces of metal, small wire pieces, blades in assorted sizes and miniature stars.
In one box are hundreds of screws – all sizes and in perfectly good condition. And in another, a beautiful piece of burnt wood – a relic from the 2019 bushfires. More boxes overflow with small toys, tap washers, nuts and bolts, keys of all descriptions, rusty metal strips, empty whipping cream bulbs like tiny silver Hindenburgs, and so much more.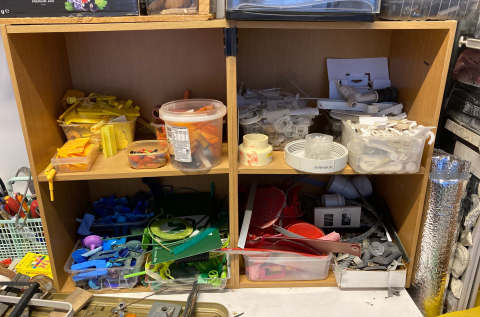 Then there are the empty drawers – some ink-stained and grotty, some painstakingly and lovingly lined with pretty, rose-covered drawer liners by the original owner, all discarded on the street and rescued by Nancy. Now, they wait patiently under her large workbench for their transformation from lost objects to found.
These drawers will feature in Nancy's next solo exhibition, It's in the Drawer, which explores positive aspects of the Covid lockdown. It will be held from 15 December 2021 – 9 January 2022 at the Melbourne City Library, and is supported by a City of Melbourne Arts grant.
All these items have a story, and Nancy is the storyteller.
You can follow Nancy on Instagram or on her website.
Nancy's brooches and small artworks are available at Incube8r Gallery in Fitzroy and Prahran, and The Reimaginarium in Geelong.