News
Assembly Point Exhibition: Upcycled from the City Streets
'Upcycled from the City Streets' tells the story of an unexpected but highly rewarding collaboration.
'Upcycled from the City Streets' tells the story of an unexpected but highly rewarding collaboration. Nancy D. Lane, working as NancyDee, is a found object assemblage sculptor. She uses pieces of metal, wood, tile and plastic that she finds on Melbourne's streets to create cityscapes and geometrical abstractions that reflect the urban environment.

When posting to Instagram, she discovered Julia Zöllner, an illustrator and painter who interprets urban surroundings using ink, watercolour and acrylic. Nancy admired her work and messaged her, they met for coffee, and despite a 40-year difference in their ages, they found they had many common interests.

In particular, both had travelled and worked in Southeast Asia: Nancy in Luang Prabang, Laos, where she had a solo exhibition of small wall sculptures; and Julia in Thailand, Vietnam, Malaysia, Cambodia, where she collaborated with artists from various fields such as pottery, silk painting, jewellery, printmaking and photography. As a result, they decided to try working together to see what would emerge from their divergent practices.

Nancy had recently moved from her home studio to become an artist in residence at River Studios, where she was encouraged to create larger two-and three-dimensional works. Julia was inspired to explore working on glass, and purchased three large, second-hand timber-framed windows on Gumtree. Using the large project space at River Studio, they started working in new mediums and at new scales, and eventually, started collaborating on the same works.

'Two artists, two practices' (vitrine 1) shows their working materials and some of their work before they met. Nancy was creating cityscapes as well as more abstract designs from street trash, while Julia was busy sketching the places she lived and travelled.

'River Studios: Industrial immersion' (vitrine 2) shows the influence of River Studios on their practice. This former warehouse is tucked away in the back blocks of West Melbourne near the Maribyrnong River. It was leased by the City of Melbourne and converted to art studios in 2010, and the renovation made innovative use of recycled materials. It is surrounded by cement works, container loading areas, brick yards and manufacturing plants. The seemingly unending supply of metal and wood on the streets nearby was a boon to Nancy's desire to create larger works, while Julia was inspired to use recycled cardboard to document the piles of containers and cranes nearby.

'Proportion and Process' (vitrine 3) shows Julia's experimentation with the large window, using different types of ink and working on two sides. Nancy also experimented with scale – using wood pallets and glass panels for creating large cityscapes and abstractions, as well as coloured tiles to create miniatures.


'Layers and Light' (vitrine 4) continues the experimentation. Julia tried a range of representational images and abstractions in layered formats in the nine grids on both sides, seeing how light from the sun or from lamps created variations in shadows. Nancy continued her work experimenting with upright bolts layered on cement or granite bases.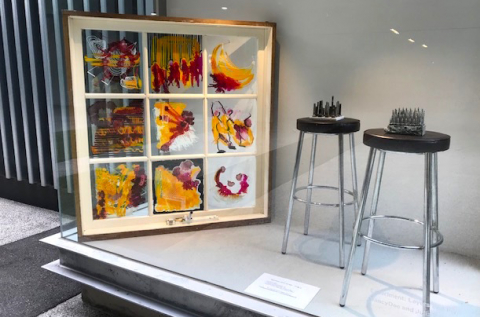 'Two artists, one practice' (vitrine 5) shows the work Julia and Nancy completed together. They experimented variously with Julia first/Nancy second and Nancy first/Julia second, as well as Julia/Nancy/Julia, and Nancy/Julia/Nancy. Neither knew what to expect, but they learned to trust each other, even if at first they were sometimes a bit dubious. In the end, both believe that what they learned from their joint experimentation and from each other was immensely stimulating, energising and significant to the future of their joint and individual practices.


For an exhibition catalogue email nancydeesculptures@gmail.com or juliazoellnerart@gmail.com.
You can also follow them on Instagram: @nancydeesculptures and @juliazoellnerart