News
Dwayne Hutton – Exploring with Colour
River Studios artist Nancy Lane writes about Dwayne Hutton in Exploring with Colour.
Dwayne Hutton's interest in art started as a child, when his grandmother used to guide him around the Art Gallery of South Australia. "I spent a lot of time in that gallery," he says.
About 12 years ago, Dwayne moved from Adelaide to Melbourne. Initially he found his creative outlet through music, as a singer and songwriter. Although he was always interested in colour, it took him a while to figure out how to translate this interest into something of value.
Then three years ago, he decided to start painting in oils. Initially he was using his kitchen floor as an easel – "and that really wasn't practical", he jokes. That encouraged him to apply to Artsbox, a short-term artist-in-residence program run by the City of Maribyrnong.
When he was accepted, he took leave from his day job as a marketing manager for the month. "The space was like a shipping container," he admits, "but the good thing was that at least I didn't have to pack up to cook dinner."
Dwayne then applied to become a longer-term artist-in-residence at Creative Spaces managed River Studios in West Melbourne, moving there in January 2019. From Dwayne's perspective, the studio was located in an ideal location between his home in Footscray and his work.
"It meant that I could go straight to the studio and paint, and then go home for a late dinner," he said. "Or alternatively, I could go home and eat, then come back and paint 'til late at night, sometimes 'til early in the morning. It's really nice and peaceful then, especially in the summer."
Another drawcard of River Studios was the chance to meet other artists. "I am not an art school graduate," he explains, "so I didn't have any built-in networks. Being at the studio has been great for meeting other artists. It's cool, the diversity of the community and the diversity of the mediums they work in."
Dwayne's paintings abound in colour. "Because I have not had any formal training in colour theory, I have used this opportunity to experiment, to do what I like, and I have learned a lot through my mistakes," he admits. He works intuitively, and believes that the best results are all 'accidental'.
Dwayne's paintings are not just about colour, but also depth and texture. He adds layers and layers of paint, then uses a kitchen knife to scrape back. Sometimes he does this up to four times. "The beauty of having the studio is that I can leave the paintings there to dry, sometimes up to 12 months because of all the layering. That really helps with my style of painting."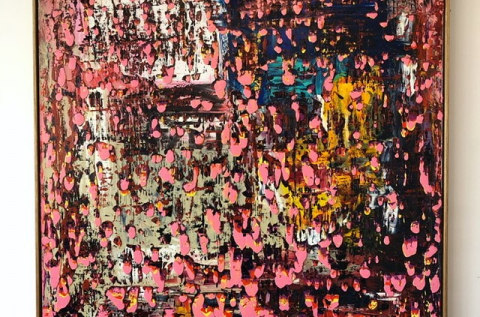 Finally, what is important to Dwayne about River Studios is the Creative Spaces staff, who manage the studio. "It seemed so daunting when I first moved in, being amongst actual artists," he admitted. "But the staff were amazingly supportive, which gave me confidence. They validated that what I was doing is worthwhile."
Although many artists wish they could work full-time as artists rather than having to support themselves with other work, Dwayne believes his job and his art complement each other. "It means there are no constraints on my creativity because of financial pressures", he says. "I can be as experimental as I want, for as long as I want. If I had to be commercial, I could get stuck doing the same things over and over because that's what sells."
As happened to so many artists last year, many of Dwayne's group shows got cancelled. However, he created some all-white paintings for an exhibition in Capsule, located in the underpass below Flinders Street station in October 2020, and more brightly coloured works for a River Studios and Friends Christmas exhibition at The Pavilion in Fitzroy Gardens. These exhibition venues, as well as River Studios, are managed by Creative Spaces, a program of the City of Melbourne.
Dwayne has now finished a series of large abstracts, each more than a metre square, for his first solo exhibition. Titled 'Looking for Meaning, Exploring with Colour', it is being held in the City Library Gallery from 28 July to 19 August. The launch will be on Thursday, 29th July, 6-7.30pm.
"The artworks in this exhibition are very detailed and explore how emotions can be channelled through colour," says Dwayne. "I really wish there was a way to find out whether people who see them can feel what I felt."
Find out more