News
River Studios & Friends Christmas exhibition and market
Take a former restaurant in the middle of a park next to a Fairy Tree, decorate it with a bright blue sky on a warm, sunny weekend, and add River Studios artists and their friends. What more could you ask for in a Christmas market?
The River Studios & Friends Christmas exhibition and market was held on 11 to 13 December 2020. The Pavilion in Fitzroy Gardens provided a light and airy venue, with cross-breezes blowing gently from the park. Creative Spaces, which manages this space for the City of Melbourne, was instrumental in making it available for the event.
Creative Spaces' Building Manager brought in demountable panels for an exhibition of the artists' works to complement the market. The exhibition doubled the reasons for visitors to have a look around.
Although two River Studios artists couldn't participate, they contributed to the overall success of the market. Olivia Ma designed the promotional signs, and Pauline Delaney posted a series of photos on River Studios Instagram while the market was underway.
The market provided a wide range of handcrafted Christmas decorations and gift items. These included marbled art products, ceramic Christmas decorations, hand-dyed scarves, paper clay bowls, textile collage, polymer clay Christmas décor, greeting cards, small oil and alcohol ink artworks, brooches and wall sculptures.
The River Studios artists participating included:
Dwayne Hutton posed with his colourful, multi-layered abstract paintings.
• Bridget Baldwin showed a series of lyrical seascapes.
• Laurie Franklin works in oil, acrylics, textiles, wood and glass in creating her original art.
• Vincenza Fazzalori uses the process of transferring marks, working back into the surface, to define her work in clay.
• Andrew Koniuszko displayed one of his finely detailed portraits, along with information about commissions.
• Nancy D Lane offered a range of unique cityscapes and brooches, created from found objects from the streets of Melbourne.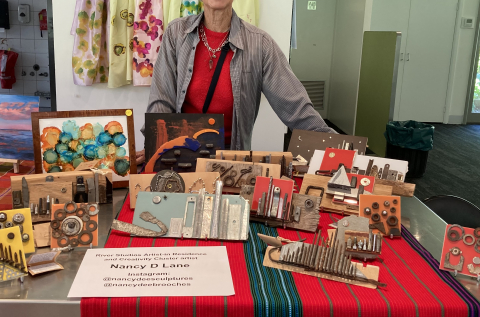 • Eda Tevrisci displayed a wide range of products using ebru (marbling), a traditional Turkish art creating colourful patterns by dropping paints onto a tray of viscous water-based solution.
Several of the Creativity Cluster group of Melbourne women artists were also represented at the exhibition and market. This group had recently exhibited at the Dirty Dozen in the Flinders Street underpass to the station – another space that is managed by Creative Spaces. The participating Creativity Cluster artists included:
• Marina Chamberlain exhibited a range of collages using vintage books and posters.
• Pat Duncan painted birds, seascapes, flowers and even a circus in oils, in a range of sizes including miniatures
• Penny Sharples works both in acrylic and in oil and cold wax, and showed a range of works based on her travels in Japan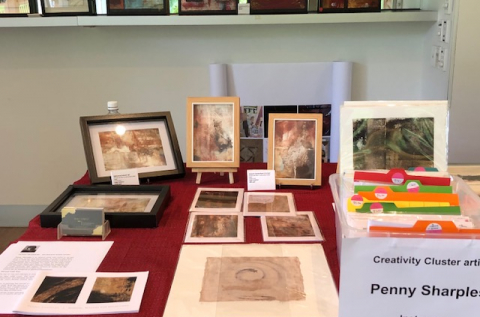 • Deidre Ogilvie calls herself a mixed media artist because she works across so many mediums – oil, acrylic and alcohol ink, to name just a few.
• Lindsay Hussey is a textile collage artist, using hand-dyed fabric and yarns, as well as op shop doilies and lace.
• Luna Cameron-Parrish used mosaics, polymer clay and found objects to create unique Christmas décor for the market.
Finally, two additional friends of River Studios artists joined their colleagues:
• Nikki Franklin works with paper clay, creating small quirky animals and bowls. She also creates mosaic mirrors and miniature mosaic art.
• Myrna McRae is inspired by the Grampians, working in an abstract rather than representational style.
The two previous River Studios Christmas markets have been held on the studio premises. However, a venue in a city park is accessible to a wider range of people. Many picnickers and walkers found the market simply by chance, and were very appreciative of the opportunity to browse and chat with the artists, as they rarely have such an opportunity.